As one ancient Greek philosopher said, "Everything flows, everything changes. Epochs change each other, bringing us something new, new technologies and materials appear.
The interior is no exception – not everyone is ready to follow the traditions and choose good old classics or cozy countryside. It is thanks to new trends and technologies that a new style of interior has appeared, which has received a sound name "Contemporary", which means simply "modern" in English from contemporary.
And this name fully reflects the main feature of this design direction – it is really popular and in demand here and now – in modern cities, with their dynamic rhythm of life and an abundance of technical innovations.
At the same time, it is difficult to highlight the main features of the Contemporari as an interior design style. It can be imagined as a certain mixture of modern trends and fashion trends, which can not be attributed to other styles formed in the last century – high-tech and minimalism, with their rigid frames and distinctive features.
What is this unusual and still new for us interior style? What characteristic features allowed the Contemporaries to stand out in a separate direction of design? How to arrange such an interior in your apartment?
Agree that it is rare to say about what ordinary city apartment you can confidently say – that's the Mediterranean style, ethnicity or country. And what is the name of the direction in which we increasingly decorate interiors, mixing different trends and bringing something of our own? Designers believe that such a picturesque mixture is called "contemporari"
Key features and characteristics
It should be said at once that the style of Contemporary in the interior often does not appear as a result of the designer's efforts and development of a special project of housing design.
Usually it is formed spontaneously, just in the process of repairing the family decides to buy a set of modern furniture, selects the desired colors, does everything to make the interior more functional and comfortable.
And as a result, what has turned out, can not be attributed to any historical direction. It appears, here such, developed by itself interior it is quite possible to name contemporari!
Such spontaneity in many respects determined the main features of this mass and generally accessible style of design:
Variability. Such interior can be changed every five or seven years, without much effort and, which is very important, the cost, and independently, without resorting to the help of professionals. Availability. Everyone can decorate an apartment in the style of a Contemporari.
You do not need to study interior design magazines or attend design courses. Good taste and desire to make the interior comfortable for all household members will make the apartment a cozy place, decorated in a single, but not subject to historical definition of style.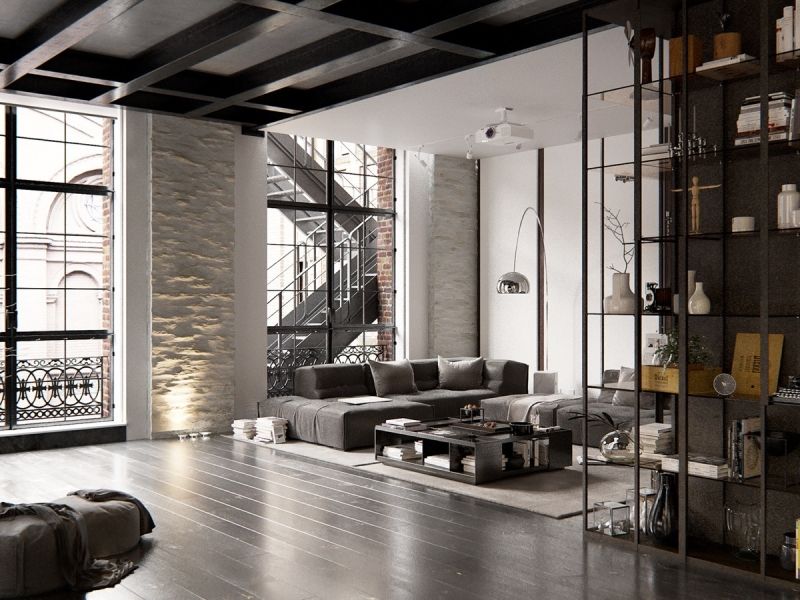 Well, let it be! The main thing is that it turned out to be beautiful! Functionality. Contemporaries will never give up comfort and convenience in favor of pretentious beauty and magnificent elements of decoration. Its main task is to place everything necessary on a relatively small area of a typical apartment, to create a corner for rest, work, communication with friends and so on.
And if after that the apartment does not have room for a slender column or floor lamp with a luxurious lampshade – well, it is possible to do without them. Simplicity. From the functionality follows and the last key feature of the contemporari.
And such interior does not aspire to minimalism in decor, no, it would be glad to decorate the house with elegant details or magnificent design, but after all its main purpose – to provide convenience to inhabitants of apartment so decorative elements depart on the background.
And another important nuance – Contemporaries not in vain called the "style of styling", it is able to unite the most different directions of design and take the details of historical styles, which are best liked by the owners of the house.
It is enough to add to the modern style, for example, wallpaper in a vertical strip and get a good reference to the respectable English style. It is worth to decorate the floor with a colorful striped mat or hang light curtains made of natural material with garters in the form of romantic bows – that's one of the country elements.
The magnificent lambrequins, small ceiling cornice, armchair with gracefully curved legs will cause associations with classics. And all these objects and designer techniques can be harmoniously combined in a modern eclectic interior.
Color gamut
Contemporaries do not require any rigid principles in interior design, so that the colors can be almost any. And yet the main characteristic tendencies can be singled out:
Neutral shades serve as a perfect background for brighter furniture and decor details. In interior in style of contemporari usually prevail beige, grey, sandy, white colour. Furniture is most often selected muted colors: brown, dark blue, graphite gray, all shades of wood or stone.
Lighter walls in this case only emphasize its shape and allow you to experiment with shades. And here accessories and subjects of a decor it is possible to choose and more bright – dark blue, red, green or yellow vases, frames of pictures, curtains, coverlets or pillows will create positive mood in a room.
Zoning and finishing materials
Contemporaries do not like small rooms and isolated by massive walls or partitions of the resting area. Modern studio apartments, in which the kitchen is combined with the living room, and spacious rooms are equipped with areas for work and rest, separated only visually, with the help of design techniques – all this is quite in the style of Contemporary.
Boundaries between different functional areas are furniture, modular structures, curtains and screens, changing the level or material of floor coverings, different ceiling heights and other similar elements. In this case, the maximum benefit is derived from each such construction.
The modern style provides so successful, harmonious arrangement of furnishings and partitions that in the near future the owners will not have a desire to change or move something.